Advance bookings for our workshops end at 11,30pm Wednesday September 8th. For availability, please contact the Information Point when you visit Craft Festival.
At Craft Festival, we have a range of bookable and drop-in workshops for all ages. Our workshops are very popular and most sell out quickly. Click the workshop link and you can book direct. All 2 hour workshops are £20 + Booking fee, which is payable at the time of booking. The workshop fee does not include entry into the show. To book a workshop you must be over 16 years of age. We have a range of free workshops for children and young people from ages 2-18 years in the Craft Lab.
Covid Safety for Workshop. Care will be taken to seat you in a socially distanced space and sanitiser provided. We ask politely that you wear a face covering at least until seated at your work station. The Workshop tents will be left open at the front for ventilation throughout. (Other members of the public will not be allowed into this area so you so you will not feel 'on display'). Seperate tools and materials will be provided for each participant, and tools changed or cleaned between sessions. There is a maximum capacity of 10 people in each workshop.
To Book Your Workshops, hover and click over the workshops. You will be directed to our Ticketsource booking system.
Friday September 12th
BT01 11am-1pm Textured silver pendant with Naomi Davies-Tonkin. By sawing shapes from silver and then using hammering and punching techniques you will make your own pendant V1
BT02 11am-1pm Soap dishes in clay with Tweeny van Mierlo Using slabs of clay you will explore texture and colour to make 2 soap/trinket dishes. Venue 2.
BT03 11am-1pm Willow mobile or small willow animal with Jude Cranmer. Make your own fish or insect mobile or small free-form willow animal V3
BT04 11am-1pm Simple Casement binding with Brian Norman. Learn to make your own notebook V4
BT05 2pm-4pm Textured silver bangle with Naomi Davies-Tonkin. Form silver into the shape you choose to make a bangle which you can personalise with decorative texture. V1
BT06 2pm-4pm Shush, let's make Christmas decorations with Tweeny van Mierlo This secret workshop will put you ahead of the festive game and give you the opportunity to make bespoke pendant style ornaments in clay. Venue 2
BT07 2pm-4pm Willow conical bird feeder or garlic holder with Jude Cranmer. Using basketry techniques to make a conical form for a variety of uses. V3
BT08 2pm-4pm Print your own drum lampshade by Brian Norman. From your own simple printed design create a drum lampshade. V4
Saturday September 11th
BT09 11am-1pm Copper jewellery with Andy Branston. You will learn how to cold-work copper to make your own bracelet. V1
BT10 11am-1pm, Mug or jug? With Tweeny van Mierlo Form clay into a practical vessel to be used and cherished. Colour and or texture can be used to decorate your mug or jug. Venue 2
BT11 11am-1pm V3 Silver ring making with Naomi Davies. Using traditional jewellery making techniques make your own personalised silver ring. V3
BT12 11am-1pm Bind a 'Long stitch' journal with Brian Norman. Create a small journal using recycled and sustainable materials. V4
BT13 2pm-4pm Spoon carving with Andy Branston. You will start with a rough log and finish with a spoon or spatula that is truly individual, learning to use a hand axe, hook knife, pruning saw and whittling knife. V1
BT14 2pm-4pm Adornments in clay with Tweeny van Mierlo. Using different coloured clays you will design and create an assortment of pieces to make boho style jewellery for either the body or the home.V2
BT15 2pm-4pm Felt making phone or glasses case with Su Kaye. Using the wet felt making technique make a no-sew case for your phone or glasses. V3
BT16 2pm-4pm Discover Kitchen lithography with Brian Norman. Learn this low-tech safe-print lithographic printing process. V4
Sunday September 12th
BT17 11am-1pm Copper jewellery with Andy Branston. You will learn how to cold-work copper to make your own bracelet. V1
BT18 11am-1pm Willow Catalan Platter with Jude Cranmer. By selecting and preparing the provided willow appropriate to your design you will bend and weave to create your own tension tray. V2
BT19 11am-1pm Textile collage - drawing with stitch with Franca Westaway. Create your own unique piece of textile art in response to plants and flowers - collage fabrics; layer mixed media and draw with stitch V3
BT20 11am-1pm Soapstone carving - organic form with Maria Moorhouse. Learn hand stone carving techniques and methods to create a decorative organic soapstone sculpture. V4
BT21 2pm-4pm Spoon carving with Andy Branston. You will start with a rough log and finish with a spoon or spatula that is truly individual, learning to use a hand axe, hook knife, pruning saw and whittling knife. V1
BT22 2pm-4pm Willow mobile or small animal with Jude Cranmer. Make your own fish or insect mobile or small free-form willow animal. V2
BT23 2pm-4pm Coptic Binding primer with Brian Norman. Make a book using this ancient decorative binding style. V3
BT24 2pm-4pm Carve a limestone letter in relief with Maria Moorhouse. Hand carve stone using traditional lettering chisels with a lettering hammer to create relief work. V4
Latest News
THANK YOU! Four weeks, two festivals and one pandemic
Four weeks, two festivals and one pandemic.....Read more
Buy Tickets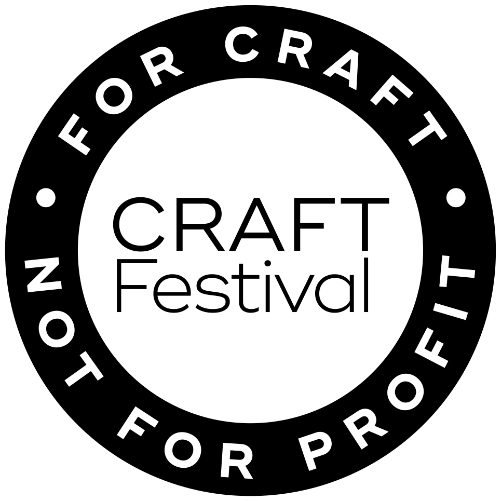 Contact Us
Craft Festival, Unit C, Kach Business Park, Bovey Tracey, TQ13 9TZ
01626 836846
If you'd like to volunteer please CLICK HERE